With Anthony Davis clearly heading to the NBA draft, Kentucky is scrambling to fill the void of shot swatting, ugly mugging, paint domination for next year. And while you may have heard that Calipari is targeting this Noel fella, they may already have their answer in Alex Oriakhi.
Wait, Alex Oriaki? He of 8 points, 5 rebounds and 1 block a game? Surely you jest.
We'll conveniently believe that they are going after Oriakhi or Noel. Not both. Good. Moving on...
Via Jeff Goodman on Twitter (@GoodmanCBS):
Yes, that's right folks.
This is about the academics. Akin to transferring from Harvard to UPenn, Oriakhi has decided to make the switch from the hallowed classrooms in Storrs to the intellectual's utopia - the SEC.
Understandable. Yet, which area of study will be available at the University of Payche...um Kentucky, that isn't already available at the University of Farmi...Connecticut?
Using our wide-reaching network of correspondents and connections (aka - the Internet) we got our hands on the
UConn course catalog.
Here are some highlights (note: these are ACTUAL classes, no joke):
-
Nutrition and Feeding of Livestock
(of course)
- Behavior and Training of Domestic Animals
(because "sit" and "stay" are demanding orders)
- Computers in Modern Society
(you know, these modern day laptops sure are portable)
-
Evolving Law of Arrest, Search and Seizure
(always good to see the flip-side)
-
Floral Art
(for serious?)
- Athletic Field Management
With this expansive of a class list, what could Oriakhi plan on studying at Kentucky?
-
Sociology 101: The community of Kentucky: One's horse is more important than one's woman
- Economics 203: Issues in money laundering and other forms of embezzlement
- Business 301: Bouncing back from bankruptcy or other federal violations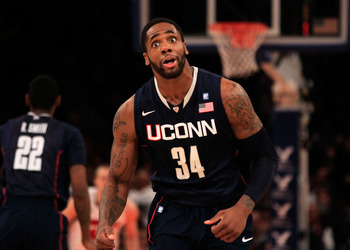 It's an interesting decision for young Alex to make. With the offer to leave Storrs and its drunken coach for a chance to play for an equally angry but better paying coach, you can fully expect to see Oriakhi make the switch. Now the most important question is what his new major will be.
Leave your best guesses in the comments.
Pin It Now!